Is it just me or have you noticed patchwork popping up in trending fashion looks?
For quilters like us, I'm so excited to see the love of scrappy quilts and patchwork showing up in the mainstream. Despite how much I love to sew and quilt, I don't often make clothing for myself. However, seeing these styles definitely makes me want to start.
While you could definitely purchase some patchwork clothing and wear it with pride, another option would be to use up your fabric scraps and get creative! Here's a few inspiration ideas to get you started:
1. Patchwork Sweatshirt
Like this style, you could use a bunch of random 2.5″ scrap pieces to create a unique look. You could also take a leftover quilt block and sew that on a sweatshirt. I received a quilt block from my late grandmother, and up until now, it's sat in a memory box. I think adding that quilt block to a plain sweatshirt would be a fun way to showcase her quilting skills and her memory.
2. Jazz up a Jean Jacket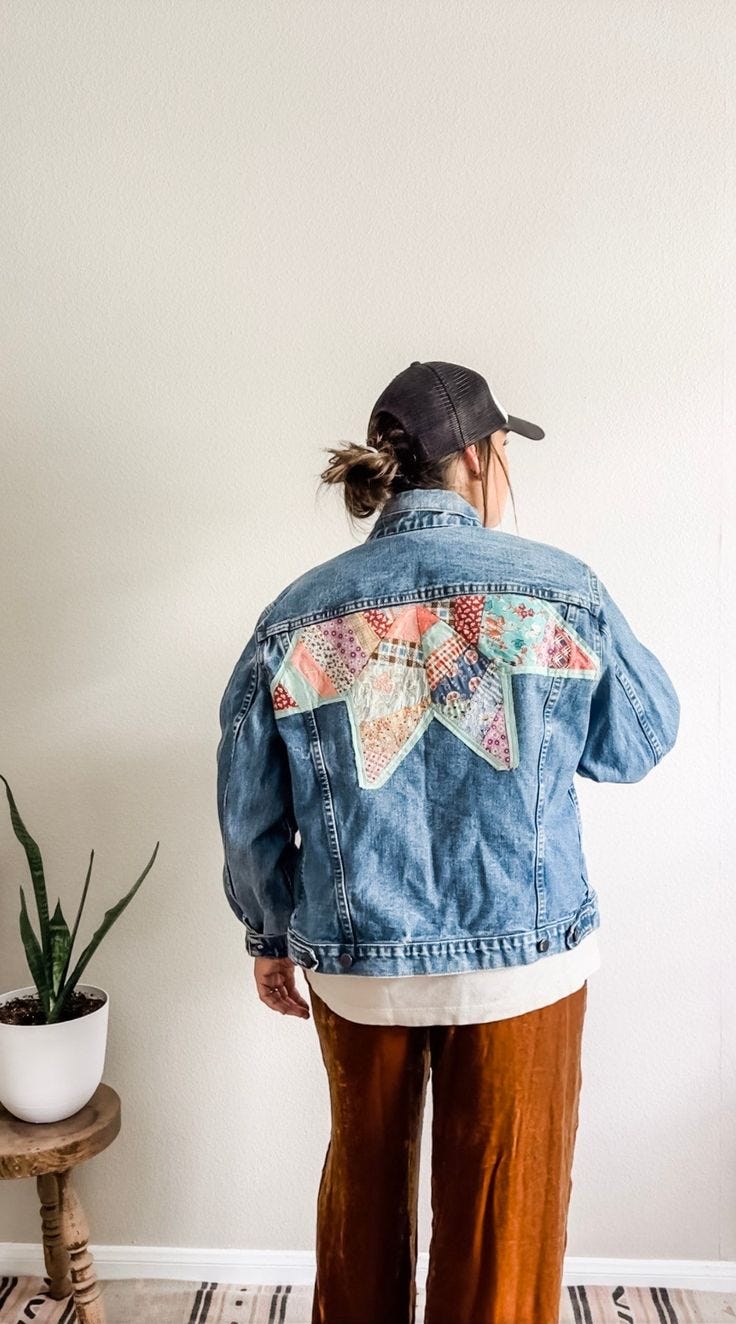 Fabric scraps aren't just for patching holes in clothing (although they are great at that!). Create a custom jean jacket by adding cute fabric to the back panel of your jacket. I'm part of my local quilt guild and now I'm thinking we need to create fabric scrap jean jackets to be in the club. Kind of like the "Pink Ladies" but much more creative and economical. Additionally, if you wanted letters for your jacket – back your fabric with double-sided interfacing and cut it out. By layering the interfacing, it makes cutting way easier.
3.Make a Quilt Coat
If you have old quilt blocks or an unfinished quilt top, a quilt coat may be the perfect solution. This project will use a lot of fabric across in just one project, especially if you make a coat for an adult. Suzy Quilts made these cute coats for her entire family, including her dog!
4.Patched Jeans
Adding patches to your jeans, especially the knees is such a classic look. You can layer fabric scraps as patches so that it looks on purpose, rather than a fabric repair. Or use fussy cuts like these jeans, to make a cute pattern.
5.Quilted Bags
Coming soon is my very own pattern, The Happy Camper Duffle Bag, which uses 3.5 squares. When I put it in the Ginger Quilter June box, I obviously curated the fabric selection – but it would work so well for clearing out your scrap bin and making something totally useful.
If you love to use up every inch of your beautiful fabric, check out our other posts on using up your fabric scraps: