There is something about Halloween fabric that just gets me all excited! Halloween is one of my favorite holidays to decorate and make projects for. I always send out Halloween projects in the September Ginger Quilter box, so that you have plenty of time to finish them before October. If you missed this month's box, join the waitlist to be the first in line when doors open again.
Because I love Halloween fabric so much, that means I have quite a few scraps (maybe you do too!) Sometimes when I'm working on a scrap quilt, I don't want to use holiday fabric on a non-holiday project. Which led me to put together a free pattern round-up for scrappy Halloween patterns – perfect for all your Halloween fabric scraps.
Halloween Scrap Quilts
Gone Batty Quilt by Brown Bird Designs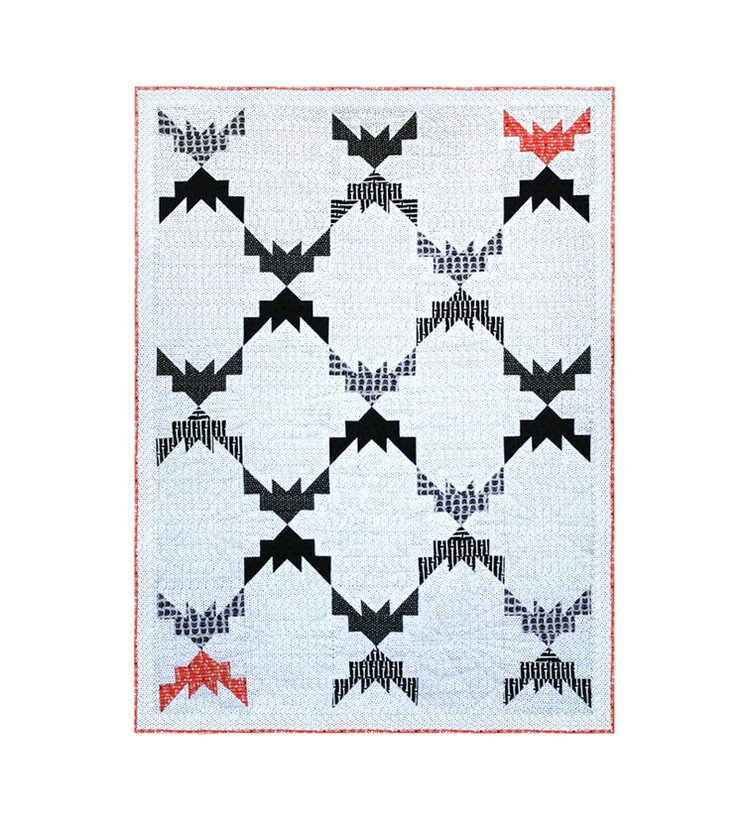 This batty quilt is a fun play on a traditional Irish chain pattern. It is perfect for your for low volume, black and orange scraps. It uses a variety of fabric scrap sizes ranging from 2.5" squares to 5" squares. This quilt comes in two sizes, a throw size quilt (57 1/2" X 77 1/2") or a queen size quilt (83 1/2" x 106 1/2").
Gone Batty Quilt by Brown Bird Designs
This Halloween quilt pattern features the cutest jack-o-lanterns! The finished size is 47 1/2″ x 56 1/2″. Honestly, you could easily transition this into a wall hanging by omitting one or or both borders. If you have spare fat quarters lying around this is the project to make. This pattern uses small pieces like 1.5″ squares, along with strips — so it's really good for using up a lot of your Halloween scraps.
This quilt uses so many sizes of fabric scraps. If you sort your scraps by color, this scrappy Halloween quilt would be easy to pull together. You could easily swap out the colors to make multiple versions on this quilt. I like that the background isn't all black, but has mixes of purple, grey, and white too. The finished size is 63″x70″ which is a great size for snuggling up watching scary movies.
White Pumpkins by Jessica Dayon
If you like more subtle holiday decor, this is the perfect neutral Halloween quilt pattern. While the fabric requirements are for yardage, you can easily turn this simple pumpkin quilt design into a scrappy Halloween quilt by sewing scraps together to make the pumpkins. If you don't have enough white scraps, cut up a low volume bundle for an easy way to get that scrappy look. The finished size is 54 1/2" x 58 1/2", but could easily be adjusted by adding more rows.
Jack-O-Lantern Quilt Pattern by Scattered Thoughts of a Crafty Mom
Another pumpkin quilt? Absolutely! Even better, this one comes in two sizes, mini (28″x30″) and Lap/throw (63″x63″). This pattern is comprised of 2.5″ squares, which means it's a great way to make a dent in your scrap pile. This friendly pumpkin would make such a fun mini quilt to hang in the window while trick-or-treaters are coming to your door.
Scrappy Halloween Patterns
Skull Patchwork Block by Bonjour Quilts
If you have lots of little scraps, this block is going to be a good option for you. With pieces as small as 1.5″, this will definitely make a dent in your Halloween scrap fabric stash. The completed patchwork skull block measures 9½" x 11½". The instructions are free on her blog, but if you prefer a paper copy, Kirsty does offer a PDF download for $3.
Maple Leaf Quilt by Riley Blake Designs
Okay so this technically isn't Halloween, but it's an awesome scrap project for Halloween and/or Fall fabrics. This uses 5″ squares and a few half square triangles to build out your maple leaf pattern. The finished size is 46″ x 46″. If you like your quilts a bit bigger, you could add a border (or two!) to increase the size.
Halloween Cats Table Runner by Create with Claudia
If you have stacks of 2.5″ squares – this is the project for you! This scrappy Halloween sewing project uses up so many small squares. The finished runner measures approximately 28" x 42". While it's technically not a Halloween quilt, you could make a bunch of cat blocks and turn it into one!
Halloween Candy Block by Stash Bandit
Diane Harris of Stash Bandit made this super cute Halloween candy block as a free pattern to share. There are so many color combinations you could make with this block pattern. The block comes out to 6.5″x6.5″ unfinished. If you really wanted to get creative, you could combine this block with a few of these other free patterns and make a totally unique scrappy Halloween quilt!
Need a New Project?
Let us know which project you plan to make with your Halloween fabric scraps, especially if you're using leftovers from your Ginger Quilter Box projects. If you are new to sewing or just don't have a large scrap stash yet, stop by the Ginger Quilter Box Shop! We have lots of bundles and pre-cuts, perfect for these scrappy Halloween quilts.